Cold and hot beauty instrument for personal beauty care
Product Description
Product Name:beauty instrument
Model No. FCL-B8538
Specifications:
Power:AC 100-240V/50-60HZ
DC 6.5V/2A
Dimension:178*50*69mm
Features:
1.COLD care:Cool temperature reach to 15 degree C can effectively eliminate the wrinkles, minimize the pores, lock the water and strengthen elasticity of the skin. It solves the trouble of putting the towel in fridge for cool care.

2.HOT care: Heat temperature reach to 45-48degree C can effectively relax the skin, accelerate blood circulation, discharge the toxin and promote metabolism. It solves the trouble of putting the towel in microwave oven or hot water for heat care.

3.Positive ION care:Positive ion can clean the skin, soften the dirt adhering in the deep part of pores, and make the pores comfortable quickly.

4.Negative ION care. Negative ion can replenish nutrition. The effective negative ion can make the nutrition penetrate into the dermis layer and subcutaneous tissue, so as to realize the effect of whitening and renovation.
Packaging & Shipping
Inner Carton (Color Box)-- (All the data only for ref.)
Units per CTN : 1pc/CTN
Net Weight(kgs): 0.2
Gross Weight(kgs): 0.53
Volume(cbm): 0.00297 \
Dimension: 240*165*75mm
Master Carton (All the data only for ref.)
Units per CTN : 30pcs/CTN
Net Weight(kgs): 6
Gross Weight(kgs): 16.9
Volume(cbm): 0.104
Dimension:510*495*410mm
Company Information
Why choose us?
1.
Factory-nearly a decade of research and development, tooling, production and management experience, and enables us to understand deeply.
2.
Products-unique selling products at home and abroad, woning a number of domestic and overseas patents, maintained continuous development and innovation of new products every year.
3.
Talent-we attach importance to the training of talents, as well as incentives for everyone who in join ESINO providing full archives are proceeding, we not only products, but also to cultivate talent demand in the age.
4.
Work Atmosphere-Honest, happy, open, inclusive, learning, passion and grow!
ESINO to clients:
Thanks all our customer who select ESINO to become your career of cooperation partners, we have to express deeply grateful to you, and will do our best for customer to provides optimal quality of products, not only in research, production and shipments of process, we will dedicated, active and quantity service for customer to provide the best quality of products and service. While we will continue to improve ourselves skills, our emerging issues are ongoing, active management, without prevarication, dare to play. We, about size, order amount, our attitudes towards products and customers in line. To provide our customers with high quality products,our qualified quality products to you, to us prior to delivery. At last, grateful for your support for our ESINO. We do well our work, and your success is our duty to contribute to the cause.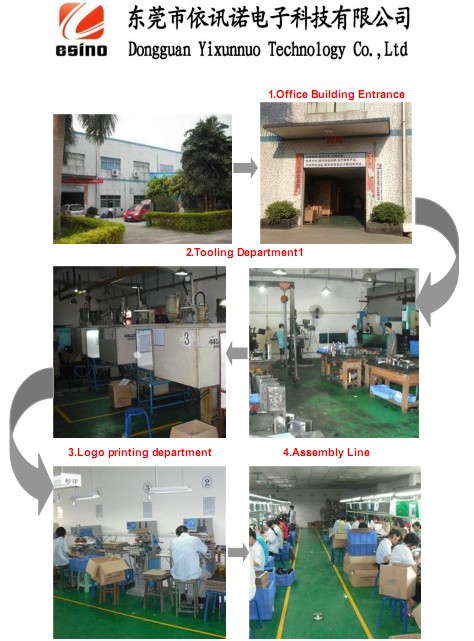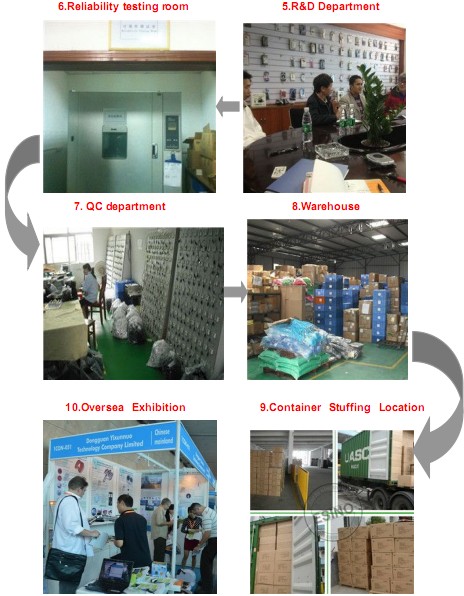 Customer Questions & Answers
About After-Selling Service
What's the after-selling service of ESINO? All the products produced by ESINO were passed via our thorough Q/C system. But we als provide you one year warranty, more details please download or check the our warranty agreement:
About us (ESINO/YI XUN NUO)
Are you a trading company or original manufacturer ? ESINO is a middle-size company specialized in OEM or ODM home-use health electronic appliances with around 180 workers, staffs and engineers. We have our own R&D Department, QC/QA Department, Tooling Department , Injection Molding Department, Assembly Line, Parts Warehouse, Logo Printing Department and Extreme Temperature Test Room. Who you are dealing with now is the Department of Oversea Business.
About Cooperation
1. Is it possible to put our own brand on the products? (OEM) Yes, we have our own Logo Printing Department. And normally printing simple logo would be our service for free.
2. Is it possible we ask you to develop a new product for us or together ? (ODM) ESINO has rich experiences developing new massage products, and we also have the best engineer team in our R&D Department at this area. It's composed by 2 structural engineers, 2 electronic engineers, 1 tooling engineer and 1 Chief Technology Officer. Please contact us for details of previous cases if you are interested in ODM projects. (We can't disclose you any detail because of signed Confidential Disclosure Agreement unless approved by our partners)
3. Is it possible to customize or change parts of one product? We don't recommend you do that, but we are able to do it. The reason we don't recommend you to do it is simply because it's not an economic option considering customizing a product always means need to redo tooling.